Traditional Braces in Beverly Hills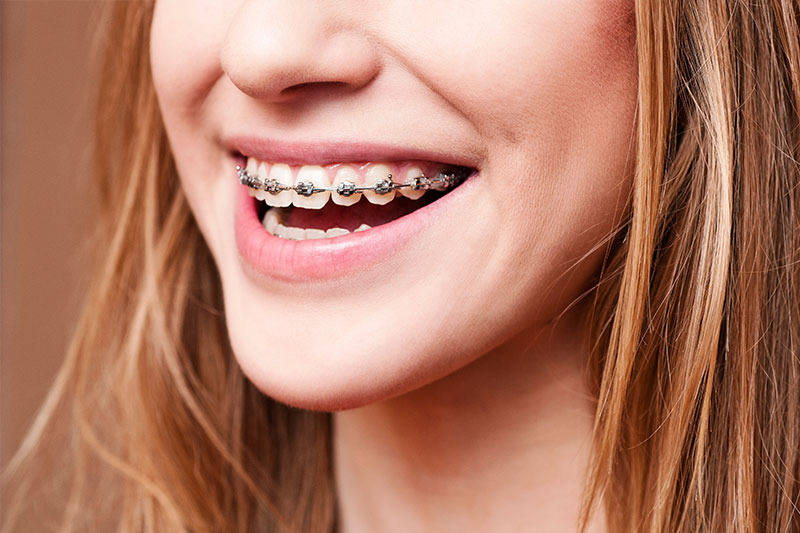 WHY GET BRACES?
Many people think the purpose of braces is just to make a beautiful smile, and while we all love watching our patients achieve perfect teeth, it is more important that we straighten our teeth to facilitate long-term oral health. It's a fact: Straight teeth with a harmonious bite trap fewer bacteria and food, are easier to clean, and avoid unhealthy forces.
HOW DOES IT WORK?
Braces are metal attachments to teeth that are connected by a metal wire. They slowly and safely pull your teeth into alignment to create a beautiful smile and healthy bite. Check out the simulation video on this page.
HOW LONG DOES IT TAKE?
When you receive braces in Beverly Hills and Encino, California, your treatment can take anywhere between 18 and 30 months, depending on how much your teeth need to move. Aggressively moving teeth to shorten treatment time can put too much pressure on your teeth and cause root resorption, or shortened roots. Once the teeth are in the right place, some minor refinements are done, and the teeth are held in place, so they do not drift back into their original position. The longer your teeth are retained in position, the longer they will stay straight.
HOW MUCH DOES IT COST?
The cost of braces, as well as Invisalign®, can cost anywhere from $2,000 to $6,000. The cost is mostly dependent on the complexity of the case, and the time it takes to complete treatment. In making your decision to choose the right orthodontist, it is important to consider how much interaction patients will have with their providers. The materials used may also change the price a little, but the best way to get an estimate is to come in for a free consultation.
DOES IT HURT?
Moving teeth, whether with braces or Invisalign®, will cause some mild soreness each time they are adjusted. There are some simple home-care remedies that can be done to relieve the discomfort, such as:
Warm salt-water rinse
Ibuprofen or other over-the-counter pain medication
Eating soft foods
BRACES VS INVISALIGN®
Check out this video by our head assistant, Carmen, on the difference between Invisalign® and braces.
WHY CHOOSE BEVERLY HILLS BRACES AND DR. SID MOLAYEM
With over 35 years of experience, Dr. Sid Molayem has seen orthodontics change a lot. New technologies have diminished the need for new orthodontists to practice techniques and skills that are required to manually manipulate orthodontic devices to move teeth. The trend has been to automate and delegate; in other words, let the computers and assistants do the work. And while new technology has always offered new opportunities for patients to achieve beautiful results, we prefer to run Beverly Hills Braces as a boutique. You and your smile will always get Dr. Molayem's meticulous attention to detail at every visit. Contact us today at (310) 278-9101 to set up your appointment with our orthodontist.